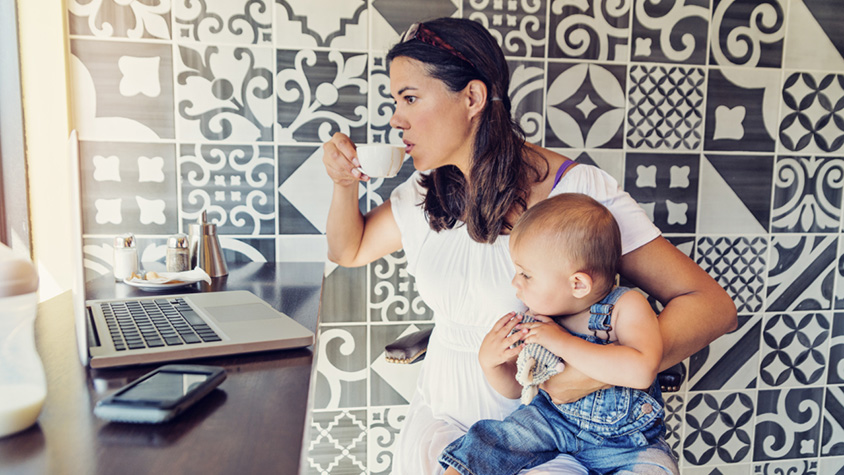 I thought this was a great article for women re-entering the work force after having a baby. This is a nerve-racking time in a women's life. When a women decides to go back to work , there are many mixed emotions. I believe this article might provide a couple of helpful tips.
Returning to work after the birth of a child is never easy. In fact, less than half of new mothers return to work within the first three months of giving birth, and more than a third don't return within the first year, according to a Census Bureau report. It's also not unusual for new mother to return to work, and then decide to leave her job within a year.
The key for most working parents is flexibility, says Daisy Wademan Dowling, founder & CEO of Workparent. We often focus on what's in the company policy rather than what might work best for our family and ourselves. However, there are some return-to-work decisions that in our control and not necessarily dictated by company policy. Here are Dowling's six top tips for new parents returning to work.
Don't return on a Monday
Rather than go back to work on a Monday or Tuesday, make your first day back in the office a Thursday or Friday. This sets you up for psychological success and a feeling of empowerment since the weekend isn't far away, Dowling says.
Keep your return date a secret
Tell everyone that your return date is a day or two after you've actually plan to return to the office. This will allow you to hunker down at your desk and plan your workload, write your to-do list, go through email and get in the right headspace before going back to work full bore, Dowling says.
Have your talking points ready
There's tendency for well-meaning colleagues to ask new moms, "How are you doing?" in a way that implies "I know this is hard for you," Dowling says. Unfortunately, this doesn't help new moms to feel empowered at work, she says. Developing an elevator pitch about being back at work will help you feel more competent and in control, she says. Your response could be, "I'm great and it's good to see my colleagues. It will be a challenge but I have great support at home."
Practice before you go
Take the anxiety out of the first day back at work by doing a return-to-work dress rehearsal. Two or three days before you go back to work, set your alarm for 7 a.m., and do everything you'd need to do in the morning before going into the office—shower, get dressed, get the baby dressed and fed, drop the baby at daycare or wait for your sitter to arrive and then commute to work. Then the minute you get close to your office, turn around and take yourself out for coffee, Dowling says. This will help you work out all the morning logistics before your first day back at work.

Take it slow
When you go back to work, you might feel a bit under scheduled, Dowling says, but don't panic if you aren't going to back-to-back meetings your first week in the office. Instead create small, tangible goals for yourself each week such as reaching out to clients during your first three weeks back or leading the team meeting during your second week back
Take time for professional development
Before your maternity leave ends, try to do something work-related that you always wanted to do but never have the time to do when you're working full-time such as attending a professional conference, writing a thought piece for a trade journal or updating your LinkedIn profile.
—————————————
Thank You,

Please send all questions to my personal email: ceo@couragecardsforgirls.com.
If you have any positive comments please enter them in the comments section at the bottom of this blog post. Please leave a legitimate return email address. Any comments with a falsified return email address will not be posted.
Our blog website URL is: www.couragecardsforgirls.com , I will continue to add new blog posts every month. Keep checking back, write nice comments… I need you….